Yadesa Zewege Bojia Reflects on African Union Flag on 50th Anniversary
Tadias Magazine
By Tadias Staff
"I was told by an official from the Ethiopian ministry of Foreign Affairs that when Meles Zenawi found out the winner was an Ethiopian, he told them to go find the guy," he said. "Once I got to Addis, on the second day of events, I was approached by the protocol chief who informed me that the Prime Minister wanted to see me. So my wife and I had the chance to meet with the PM privately who told me that he was proud of my work." He added: "In addition, I also met with President Zuma of South Africa and other leaders who were very complimentary of the flag. Not to mention the five hours I spent with President Girma Wolde-Giorgis at the national palace."
New York (TADIAS) – On the evening of September 28th, 2009, Yadesa Bojia, an Ethiopian American artist based in Seattle, Washington, was babysitting his children at home while watching CNN when he recognized an image on the TV screen of one of his artworks. "That's my design!" he exclaimed. He was looking at the new African Union flag created using a sketch that he had submitted for competition two years earlier. "By then I had almost forgotten about it because at that point I had not yet heard back from AU," Yadesa (a.k.a. Yaddi) recalled in a recent interview with Tadias.
Yaddi spotted the flag on Lary King Live whose guest was Muammar Gaddafi, the Chairman of the African Union as well as the head of the African Union Commission (AUC) at the time. The Commission was tasked to come up with an updated insignia for the continental body, and the interview conducted at the Libyan Mission in New York showed Gaddafi flanked by the new banner. "I could not believe my eyes," Yaddi said.
Immediately, Yaddi contacted the AU headquarters in Addis Ababa to enquire about the new flag. "What flag?" the perplexed women on the other end of the receiver replied. "Sir, I have no idea what you're talking about."
"To top it off the next morning there was Gaddafi again on CNN wearing my design all over his clothing," Yaddi remembered laughing. "I was losing my mind."
Yaddi would eventually learn that his work was selected earlier that year by the Commission out of approximately 127 entries submitted in the span of two years from artists residing in several African countries and including two contestants from the Diaspora.
Three months after he first saw the flag on CNN, Yaddi finally received a formal letter from the African Union announcing the adoption of his design as the continent's new emblem. The letter included an invitation along with a paid travel package for him and his family to attend the flag's inauguration ceremony during the 14th Ordinary Session of the Assembly of Heads of State held in Addis Ababa on January 31st, 2010.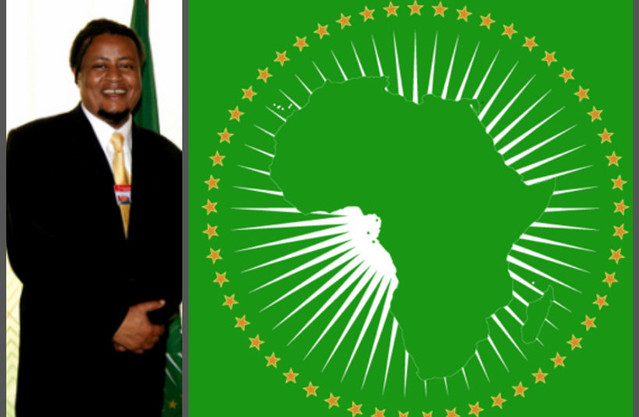 Ethiopian-born artist Yadesa Bojia is the designer of the current flag of the African Union that was adopted in 2010. (Courtesy photo)
The design depicts a green Africa, the color portray the hopes and aspirations of the continent, resting on rays of a white sun that symbolizes the people's desire for friendship and co-existence with all countries around the planet. The map is circled by a ring of golden stars each representing member states, wealth and a bright future.
Watch: ETV Interview Part 1

Watch: ETV Interview Part 2

Watch: Tanzania's President Jakaya Mrisho Kikwete Poses for a photo with Yadesa Bojia

Watch: African Union African Union Yaddi & Iré (Official Music video)

"I was told by an official from the Ethiopian ministry of Foreign Affairs that when Meles Zenawi found out the winner was an Ethiopian, he told them to go find the guy," he said. "Once I got to Addis, on the second day of events, I was approached by the protocol chief who informed me that the Prime Minister wanted to see me. So my wife and I had the chance to meet with the PM privately who told me that he was proud of my work." He added: "In addition, I also met with President Zuma of South Africa and other leaders who were very complimentary of the flag. Not to mention the five hours I spent with President Girma Wolde-Giorgis at the national palace."